Dairy farmers who are looking for tools to implement good management practices on their farms may want to take a look at the resources the DNR and partnering agencies have to offer. Nutrient management planning programs and the runoff risk advisory system are just a couple of the tools available to farmers. With an ever-growing $59.6 billion agribusiness industry, farmers and the DNR need to work together to keep Wisconsin's waters and lands healthy.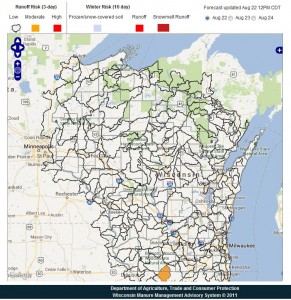 The Runoff Risk Advisory Forecast System, developed by the Department of Agriculture, Trade and Consumer Protection, the National Weather Service, U.S. Geological Service and the University of Wisconsin, helps farmers identify appropriate times to spread manure, especially when the risk for runoff is high. The National Weather Service updates the system three times a day and takes into account soil moisture, weather and other factors such as land cover and slope. While viewing the runoff map, farmers can click on the runoff advisory map to display the specific risk assessment, precipitation reading and other information for their particular area.
In the case that a manure spill does occur, the DNR has a 24-hour spill emergency hotline:  1-800-943-0003. Any spills, regardless the size that may affect Wisconsin's waters are required to be reported to the hotline.  
SNAPPlus software, (Soil Nutrient Application Planner) created by the Department of Soil Science at UW-Madison, helps farmers prepare nutrient management plans that meet Wisconsin's Nutrient Management Standard Code 590 and NR 243.
Learn more about how these agricultural managment tools can benefit you by contacting the agriculture runoff management staff.
The risk advisory system and soil nutrient planner software is just a start to the variety of tools that are available for farms to use to help continue keeping Wisconsin's farms healthy and our land and water clean for future generations.
If you have any questions about these tools leave us a comment, we'd love to hear from you.
If you are interested in staying current on the most recent posts from Livestock to Land and everything in between become a subscriber here!